Pain: 2/10
Inconvenience: 10/10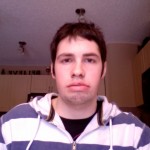 Here's today's mugshot. Dried blood (tough to scrub off when you can't feel your nose and lips), unaligned lips and a big, fat head. I think I look a little bit like Fat Bastard.
Good news: today was my last day in the hospital! My stay hasn't really been that bad. I'm thankful for all the kind nurses I've had (Daphiny, Jill, the nice Mexican lady whose name has escaped me). I'm thankful for those that came to visit me to make the time pass a little more quickly. And I'm thankful for the cafeteria ladies who continuously kept my tray packed with Boost, Ensure, Carnation Breakfast drinks and little cartons of whole milk. I'm not thankful for the tasty-looking Jello she kept leaving there, because I had no way of eating it!
I'm beginning to regain a bit of feeling in my face today, which is nice, because it's enabling me to drool a little less. Not much less, mind you.
Also this: my butt still hurts too much to sit down. *grumble*
My surgeon stopped by again this morning, at 6:30 on the dot, as usual, to tell me what my diet should look like for the next few weeks. He recommended a minimum of 4L of water per day and 3000 calories per day. I have trouble getting that in when I can chew, swallow and take big gulps from my water bottle. I have no idea how I'm going to swing that kind of intake using nothing but a plastic syringe.
I'd like to interject here to show a particular nasty photo of the sheer amount of blood I have sucked out of my mouth in the past 48 hours. It's delightful.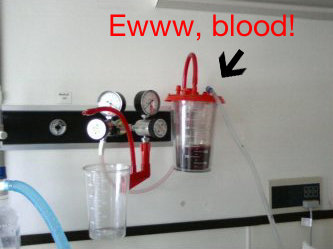 Let's look on the bright side though: I'm at home! Home sweet home. No more hydrated air. The ice packs have become heat packs. No more having to sleep in a sitting position. No more 6:30 am wakeup calls to fill me with rules I can't follow and agendas I cannot keep.
I've got the counter all set up here: 1 syringe for drinking water, 1 for saltwater rinse, 1 for chocolate Ensure supplements and 1 for yogurt and milk. Sounds tasty, right?
There is only 1 thing I could possibly complain about right now, and that is the fact that my father is cooking lemon-glazed salmon in the kitchen right behind me, and I can have no part of it.
Oh, and did I mention I got steroid injections to help with the swelling?