Pain: 4/10
Inconvenience: 12/10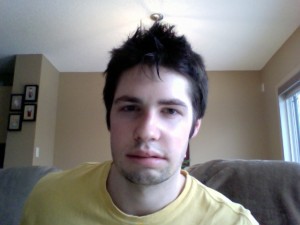 Even though they told me I would experience the worst pain in the first few days at the hospital, they lied. My pain is finally starting to increase. This is a good thing though, because it means feeling is returning to my face. So bring on the pain! Note to self: Fill painkiller prescriptions today.
I'm beginning to get tingly sensations in my lower lip. It keeps quivering on me.
Yesterday, I managed to eat 6 Ensure drinks (1800 calories, wooo!), some warm chicken broth (I was craving salt) and drank 2L of water. I've got to say… I'm becoming mighty tired of chocolate supplements. I cannot wait for the day when I can suck through a straw again! Who knew one of the best things in life was the ability to use a straw?
I've quickly learned to take naps the moment I'm tired because it hurts immensely to yawn. Every time I nap, I seem to have dreams of drinking from a glass or eating with a spoon. The human mind is somewhat cruel in that regard.
I remembered that I'm supposed to be applying heat to my face 4x per day for about 30 minutes each time. Since I can't just tape a hotpack to my face, I rigged up some fancy headband thing to hold the pack in place. It involves a luggage clip, a towel and a belt–quite a feat of engineering, I must admit!
I've also realized I can't shave because, well, I can't feel my face. So I've opted to growing a sweet "fatman's beard" while I'm under the weather here.
One last thing: I can't watch anything too funny because it really hurts to laugh, so I'm trying to be as bored as I can so I don't have to move my face in any way.
And since I've had this surgery, I've had several of my long distance friends from Calgary and Winnipeg let me know that they'll be passing through town in the next few weeks. Oh dear friends, why must you decide to come to Edmonton now? You know if you see me, all you'll be getting is a drooly hug and some awkward chit-chat, right? We could have a better conversation via email!
So, in conclusion, I can't watch anything funny, I can't yawn, I'm still drinking through a syringe, I despise chocolate, I'm craving chicken noodle soup and any kind of meat, and now that my pain is getting worse, I'm finding it difficult to read, sleep or concentrate on pretty much anything.
But I'm still happy, because I know this is only temporary and that there are plenty of good meals to be eaten once I'm all healed up!
Oh, and thank you to my friend who kindly sent me a text today inviting me to the Buck-A-Burger party at the university. *grumble*