Pain: 3/10
Inconvenience: 7/10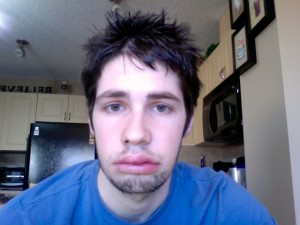 Just as a heads up to my 120 or so committed daily readers (I didn't even know that many people were interested in the inner workings of jaw surgery, haha), I may turn these daily updates into more of an every-other-day occurrence soon. Less and less is taking place regarding my recovery each day, so I'm only going to make a post if something has actually changed, or if I've had an appointment with my doctor.
I must say: I'm becoming awfully tired of tomato and cream of mushroom soup. I think I'm going to commence blending cans of chunky soup pretty soon, just for a shift in flavor. I wonder if the chunks of beef will mix up. My father told me that, when he had this surgery 35 years ago (albeit only his lower jaw), he was wired shut and all he ate for 9 weeks straight was tomato soup and chocolate milkshakes. I'm not so sure I have the discipline to eat the exact same thing for quite that long.
I'm going back to work on Monday. I hope I don't drool on anyone. I also hope nobody makes the mistake of leaning in to talk to me, because they have a world of bad breath coming their way if they attempt to pull that trick. I'll be heading home for lunch each day so I can make soup. I'm not a big fan of having to eat with a syringe in front of my coworkers anyway.
It no longer hurts to yawn because I've stretched my current elastics so drastically that I can now part my teeth when I feel a yawn coming on. It does, however, still pain me immensely to laugh and smile, and to that end I'll most likely be skipping out on my family's Easter Sunday festivities. I'll be missing street hockey, an amazing meal, board games and good times all around. The thing is, I know I'll be laughing the entire time, which means it will be nothing more than a day of excruciating pain for me. It seems like no matter what time of the year a person undergoes this surgery, they're going to have to miss some big event, whether it be Christmas, Thanksgiving, birthdays, or, in my case, Easter.
It is absolutely beautiful outside today, so I'm going to take the dog for a nice, long walk. I'm also going to make a solid effort to forego a nap today in the name of sleeping through the night and, hopefully, resetting my inner clock. I have a feeling I'll fail to be productive at work in a few days if I continue going to bed at 4:00 am, getting up at noon, and only sleeping for an hour or 2 in that timespan.
Lastly, I received a message from a friend about how confused he was when I was ranting about the luxuries of the acclaimed Magic Bullet the other day. Apparently, it is commonly mixed up with the slang name for an adult bedroom toy. I kid you not. You can read the interesting story for yourself. By the way, everything that runs through my mind is, of course, G-rated, so if any of my comments ever refer to something dirty, you can rest assured it is purely by coincidence. Here's the story: Magic Bullet: Super Fun Adult Toy or the Greatest Blender ever created?
"When you mention the Magic Bullet, people oftentimes think you're talking about adult fun."