Pain: 1/10
Inconvenience: 5/10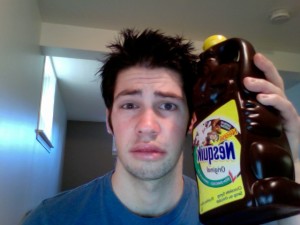 I've officially run out of creativity when it comes to my daily mugshots. A few of my friends were mocking me for my "MySpace angle" photos. I've since decided to start including an item of interest from my house in each picture–something I'll make use of when this is all over. Today, I sat down with Nesquik. I look forward to many bowls of ice cream with chocolate sauce drizzled over the top once I'm able to use a spoon again.
I realized today that I'm dehydrated. Hard to believe this can happen when you're restricted to a liquid diet. I've been drinking less than 1 L of water per day because, well, water makes me feel even hungrier due to its lack of taste. Have you ever had a craving for a glass of water when you're feeling hungry? Chances are you haven't. In any regard, I've commenced filling my water bottle at work again. At 1.5 L in volume, that should cure my dry throat and lack of energy quite quickly.
My braces have decided to start cutting into my cheeks lately. I don't appreciate it.
I had the usual for lunch today: 2 Ensure chocolate drinks. However, I succeeded in drinking both of them without spilling anything! I sat there, almost glowing, as I stared out the window overlooking the gleaming businesses across the street–the used satellite store, the shady computer retailer, and the windowless automotive shop whose logo is literally drawn onto the side of the building. My friend told me that's where businesses go to die. I'm beginning to agree with him.
One of my coworkers came by shortly after I returned from my feast to let me know that I look like a duck. He then nodded and walked away. I'm not sure what that was all about, but I appreciate the human contact nonetheless.
I appreciate all the comments I've received regarding this blog. It's nice to know that people are actually reading this manifestation of pure, raw intelligence. I think I'm going to come back to it in a few years myself and reread the entire journey to see if I find it as humorous as everybody else does when I'm no longer the victim. 🙂
To finish up, allow me to share with you a simple truth I've discovered thus far: I have a new heart for starving children. I would find it difficult to be happy if I had to wake up every morning and go to sleep every night with an empty stomach. It's not a comforting feeling.