Pain: 3/10 (I put new elastics on last night. They're much tighter and, as a result, my teeth hurt today. It feels much the same as a visit to the orthodontist does.)
Inconvenience: 5/10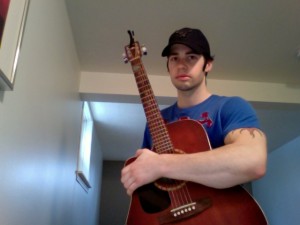 Dear Mr. Guitar:
I look forward to singing along to your beautiful music again in a few months. I apologize for neglecting you lately.
Love Graham
Today is Free Donut Friday at work. Our site manager, an extremely nice man, brings in 3-4 boxes of donuts and bagels for us every Friday. I'm watching everyone around me sitting at their desks, donuts in hand, savoring each bite. I can almost feel their satisfaction.
Last night, while "eating" my soup, I successfully managed to break my first elastic. Hurray! As a result, I had to switch them and put new ones on. Taking the old elastics off was a pretty trivial task. I'm assuming the muscles attached to my jaw are pretty tight right now because I can only open my mouth about half an inch. It's not a matter of pain–I physically cannot open it any further. I stood there, in front of my bathroom mirror, trying as I might to open a little wider. You can imagine the expression on my face. It would be similar to the facial expression someone might have if they were to sit down and attempt to grow their hair. I could just barely fit my toddler's toothbrush in to clean the insides of my teeth. Putting the elastics back on proved to be the most challenging undertaking thus far. I'm glad I commenced this ridiculous operation nice and early. At least that way, I was able to finish up before heading to work at 9 o'clock the next morning. It was so difficult! I've never snapped myself so many times in all my life.
I also discovered, as I was pulling my lips back to unnatural lengths, that I have a copious amount of stitches along my gums, both on the top and the bottom. I've been sitting here for the past few weeks wondering where all these "incision sites" my surgeon keeps speaking of actually reside. Well I found them.
I'm officially willing to blend absolutely anything now. I've realized that blended meals aren't actually that bad. Aside from the fact that they never fill you up, of course.
So does everyone remember how awesome my day was a few days ago? Well, apparently I concluded it by leaving my vehicle unlocked, because when I got into my car yesterday, I noticed there was an apple core on the floor. I thought that was odd because I definitely can't eat apples. Then I noticed my iPod-to-radio converter was missing and my CDs were strewn across the back seat. Shame on whoever walks down our street checking for unlocked vehicles. None of my CDs were missing though. Apparently I listen to really crappy music. All the sports equipment in my trunk was intact as well. So, after assessing the entire situation, I really have nothing to complain about. Here's the best part: the $100 converter they stole doesn't even work. Eat that, you thieves!
One last thing: that God-forsaken splint that I've been complaining about since day 1 has quite a hefty price tag. The price breakdown values it at $500. Worst. Investment. Ever.
And guess what! I had my very first sneeze today! I suppressed it though, in fear of extreme jaw pain. I absolutely cannot wait to sneeze again!