Pain: 1/10
Inconvenience: 5/10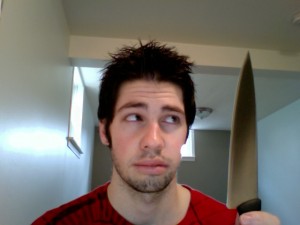 No, no, I'm not going to end it all. That knife is there to represent all the vegetables I'll be chopping for all the salad I'm going to be eating soon. It's going to be so satisfying to crunch through a piece of celery. Perhaps this photo would fit better with the day I finally cracked.
So I arrived home last night at around 6:30 pm. Dinner time. I could smell the most delicious burgers ever as soon as I stepped out of my car. As soon as I stepped into my room, I realized I had to do laundry, so I hauled my stylish clothes up to the landing to throw them in the washing machine. My upstairs neighbors heard me, so they opened the door to say hi and ask how I was doing. I told them about the burgers I could smell and, lo and behold, those very burgers were sitting on a plate in their kitchen! They sent me back downstairs with not only a delicious sirloin burger, but also some tzatziki sauce to baste it in, a plate of grilled asparagus and 3 pieces of leftover ice cream cake from their son's birthday party a few days earlier! I blended them all up, separately this time, with a little milk in each and some butter in with the asparagus. It was the best meal I've had so far! I wouldn't go as far as to say I'm full, but I'm definitely not starving. I will, however, admit that I have the best neighbors a boy could ask for. By the way, I lied a few statements back. I'm not stylish at all.
Random interjection: I received 2 emails asking if I would like to reset my password yesterday–1 for my email and 1 for this blog. The question is: who is trying to sniff my passwords out there? You sly dog…
I've been talking about some of the torturous things I've had to sit and watch people eat over the past few weeks, but yesterday was one of the worst. One of the ladies I work with brought some Indian food into work to let everyone have a taste. I'm okay with that. I'm not okay with the way that 3 bowls of the stuff found their way to my desk. Have you ever tried to shut down your sense of smell? You can't. I was able to tough my way through watching everyone come by and sample the fancy dishes, only to end with a guy asking me if I wanted to join a bunch of the team at a going-away dinner for one of our employees. "Oh, nevermind, you can't eat. I forgot." Yes, yes you did.
Due to the countless people asking me why I elected to have this surgery performed on me, I've decided to post the 6 reasons leading up to my decision. It seems that most people feel that I underwent the operation purely out of vanity, but it was much more than that.
I had a desire to chew with all of my teeth, as opposed to only using my very back molars
I was tired of my slight lisp
I wasn't a fan of spitting every time I said anything
I didn't enjoy always having my mouth hanging open
I was keen on breathing through my nose
I didn't like the look of my side profile
If you want a lengthier description regarding any of those points, you can read more about them at my Reasons for Getting Jaw Surgery page.
By the way, the "putty" that was used to fill in the gaps where bone was removed from my jaw was actually cadaver bone. Read that one more time: bone fragments from corpses are in my face. Lovely, isn't it?