Pain: 2/10
Inconvenience: 5/10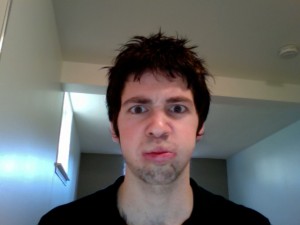 I figured out how to prevent the severe lacerations my lips have been receiving as of late. If I simply puff my cheeks out like a blowfish constantly throughout the day, my cheeks and the inside of the mouth all pop off my braces. It's a weird feeling though, when the metal braces and hooks tear out of your flesh. It hurts a little bit each and every time.
I thought I'd be able to post the coveted 0/10 pain rating today, but that's just not happening. I accept full responsibility for it. I threw the football and the Frisbee around with a few friends last night for a couple hours. While that may have been alright in and of itself, I also ran quite a bit and jumped a fair amount (to make those hard-to-get catches, of course). I also missed one of my catches with the Frisbee and it hit me right in the chin. As a result, the jaw joints on both sides of my face were throbbing for most of the night, my swelling got worse again, and I have a toothache like you wouldn't believe from one of my bottom teeth continually slamming against this cursed splint in my mouth. But I had a lot of fun being able to do something active for the first time in over 4 weeks, so I still think it was all worth it.
Note that today is Day 30, which means I am exactly 1/3 of the way through my healing process. This is a good thing. This is a very good thing.
In the name of balancing out the good with the bad, my credit card was has been compromised. I checked my statement the other night and I have almost $500 worth of charges, split up into 10 different $5 – $100 instances, all on the same day and all in a span of just a few seconds. I tracked them to a foreign investment "company" with no legit contact information. I gave my bank a call and they informed me that the "company" also attempted to push a $500 charge through, but it was rejected due to the bank's in-house security measures. They told me that the charges were indeed fraudulent, so I now have a fraud report being mailed to me which I have to fill out and send back. Why must this world strive to be so dishonest? I will never understand it.
Continuing with the bad, there was a big wrap-up party at work yesterday for the product we just shipped, and guess what decided to stop by right at lunch time: free pizza. Boxes upon boxes of it. The next time you're about to bite into a warm, fresh piece of this momentous achievement of the culinary arts, do something for me. Stop for a moment and take a nice, long sniff. It smells delicious. Trust me.
The next appointment I have with my surgeon has been moved a full week ahead. Apparently he's stuck at a conference in Switzerland, and I can only assume his delay is sponsored by the infamous ash cloud from Iceland. While it may be costing airlines a lot of revenue, I personally think it's quite a beautiful sight. A testament to the power of nature, if you will.
I made a pit stop at the Superstore last night on my way home from work so I could stock up all the extravagant delicacies I have the privilege of ingesting presently. I received a lot of weird looks from people as I was purchasing my weekly soup rations. It might be because I was buying more than a few cans: 18 in total.
I also stopped at Dairy Queen before I got home so I could buy an ice cream cake to turn into blended dessert. I was pleasantly surprised to find out about their current deal on Blizzards: buy 1 at regular price and receive the 2nd one for a quarter! Not a quarter of the full price, literally a quarter. 25 cents! The lady laughed at me as I bought 4 extra large treats for myself. I picked up the following flavors:
Skor
Smarties
Crispy Crunch
Reese's Pieces
And just for the books, when you have a giant splint in your mouth, "Reese's Pieces" is the most difficult word you could possibly attempt to say. I challenge even those of you who have more maturity then you know what to do with to not laugh when I try to articulate those 2 words.