Pain: 0/10
Inconvenience: 3/10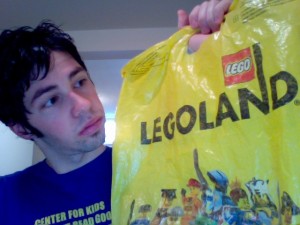 I take this bag to work with me every single day. It's initiated quite a number of conversations about how enjoyable Legoland is. This picture hasn't the least to do with jaw surgery–I simply want to go to Legoland one day. A boy can dream, can he not?
I will now proceed to rant about the local weather like an old man in a rocking chair might (if he could find time between yelling "Get off my lawn" to the neighborhood children). If you're pressed for time or could care a less about snowstorms in May, I excuse you from reading the following paragraph.
I woke up yesterday morning with the song "Wake Up To the Sun" by Limblifter in my head. Why don't you go give it a listen while you finish reading this captivating update? Allow me to set the stage for the story of relentless change you're about to be graced with. It was 26° C just over a week ago (that's roughly 79° F for you non-metric folks). The trees were budding, the flowers were blooming, the birds were singing and the grass was turning that beautiful shade of deep green that signals Spring has finally arrived. I even bought a new pair of shorts recently. So there I was, singing along to a song about awaking to the sun, happy as could be, when I looked out my window and noticed that there was almost a foot of snow on the ground and nothing in sight was actually green. The weather station's forecast for light snow turned into a below zero blizzard overnight. On top of that, the wiper blade on the driver's side of my car somehow snapped off in the middle of the night, so I had to stop every few blocks to wipe my windshield off on my way to work. This is fairly normal though, compared to the year that Fort McMurray was blessed with a blizzard on June 30th. Ya'know what's sad? This is typical Albertan weather. But, as my father always told me, "at least we're not gettin' earthquakes and hurricanes".
I was at a friend's place a few days ago and they decided to be nice and make me a homemade iced cappuccino. I thought it was a day for new beginnings, so I grabbed a straw and gave it my best shot. Lo and behold, I can once again drink through a straw! I've probably been able to do so for a while now, but I haven't tried. This means I can go for milkshakes now!
People keep asking me why I'm continually rejecting invitations to social gatherings. It's not because I'm being rude and it's not because I don't like people. I'm choosing to avoid these parties because I'll want to talk to everyone and I'll want to meet people and be friendly, but I can't because if I talk too much, my face will swell up and my jaw will start throbbing. You don't quite understand just how frustrating it is to be in a room full of people and not be able to be yourself. Also, when you're normally outgoing, and all of a sudden you're the quiet one, people assume you're not having a good time, and then you have to deal with the incessant question, "You're not having fun, are you?" If you can find me a single person with a swollen face and a splint in their mouth who desires to be in a club with loud music, alcohol, food and more people than they know what to do with, I'll admit defeat.
And a note to fellow jaw surgery heroes: Do not attempt to juggle during your recovery. I tried to prove my worth in the juggling business and ended up throwing a ball right into my face. It sent pins and needles everywhere, which I suppose is a good thing because it means my nerves are responding.
I apologize for my previous rant about the weather. I'm ashamed already.