Pain: 0/10
Inconvenience: 5/10
If you can't understand that caption, don't fret. It's in French, and I trust it will keep my reader from down under, who claims to know the language, quite perplexed.
You may be wondering why I'm not completely ecstatic about having my splint removed. I have a few good reasons, I assure you.
I had the splint graciously removed at 7:00 am yesterday morning. It was completely painless and only required the snipping of a few wires. I then quickly drove over to my orthodontist's office, never exceeding the posted speed limit, of course, and proceeded to go through the most uncomfortable experience since surgery.
They started by removing my wires, along with the hooks that the elastics attach to. I was then allowed to brush all of my teeth, my tongue, the roof of my mouth (praise the Lord–it hadn't been touched for 7 weeks and felt similar to that wrinkly texture your fingers get after a night in the hot tub). I even had the pleasure of flossing and swishing around some minty fresh mouth wash! Needless to say, that's become my morning routine and I on longer have bad breath. That moment, however, was the end of my liberation.
Immediately following my little happy dance, they attached the appliance to my back molars on my top jaw. This was incredible uncomfortable because my cheeks are still slightly numb and swollen, but they had to pull them all the way back to get the appliance in. Then I was forced to bite down as hard as I could to set it into place (keep in mind that I haven't put any pressure on my teeth for almost 2 months). As if that wasn't enough, they put my wires back in and reattached 5 hooks on each side of my mouth for my new elastics. When I finally left the office, I was shaking from all the stress on my face. Literally shaking.
That's right, more elastics. You see, since my mouth was so royally FUBAR'd, I was left with an open bite on both sides, which basically means none of my teeth touch. When I bite down, my 2 front teeth hit the brackets on my bottom teeth before my molars ever connect, so I still can't chew. I have little rubber pads called bumpers on my bottom brackets to prevent my top teeth from grinding down. I tried eating soup last night, but was unable to close my teeth enough to even crush a small piece of celery. Mashing food against the roof of my mouth with my tongue isn't an option either, thanks to that shiny, new appliance being in the way. I started swallowing vegetables whole out of pure frustration, but I immediately felt a little sick from doing that, so I resorted to blending once again.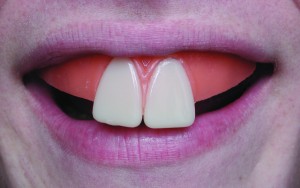 My orthodontist informed me that I'll be in braces for at least another full year and I probably won't be able to chew for a month at the very minimum. Apparently my surgeon wrote her a letter recommending a second surgery to correct my open bite, but I never want to go through that again. These past 7 weeks have been complete and utter hell, and I'd rather deal with elastics for a year than have to experience another oral surgery.
I also feel like I have buck teeth at the moment. I'm not sure if I'm simply not used to them being so prominent in my mouth, if I have excessively large teeth or if I'm just self-conscious. In any regard, I think I look a little bit like a clown.
On the bright side, my lips and cheeks have healed up quite quickly and are no longer lacerated beyond repair.
"Would you have made the same choice?"
I have a question for you all. I'm wondering if you would have made the same decision as I did after reading through the first 50 days of the recovery process. Would you have chosen to undergo jaw surgery or not? Keep in mind the reasons that led me there.