Pain: 0/10
Inconvenience: 2/10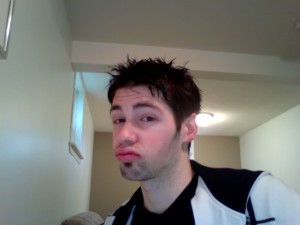 I ate a few Premium Plus crackers the other day. Question: Do you know what it's like to be able to bite a cracker with your front teeth ahead of your bottom teeth? It's incredible. You don't even have to tear things apart when your teeth are where they're supposed to be!
The one thing that I currently find extremely frustrating is the fact that, when I eat, I'm constantly chewing on my cheeks. I've yet to get used to this foreign mouth the doctors installed in me. I think it has an agenda of its own because it keeps trying to chew on my very own flesh. It's not a problem though–I'll tame it sooner or later.
I finally received my x-rays from my surgeon's office. I'll let the photos do the talking for me. (You can click on each picture to see it in all of its full-sized splendor.)
There you have it–a visual journey via x-rays! I never realized how crooked my bite was before the braces worked their magic. You can also clearly see the open bite on the left side of my mouth, along with the 8 titanium plates screwed into my skull, in the last photo. Phase 1 of my "Become a Terminator" project is now complete.