Pain: 0/10
Inconvenience: 4/10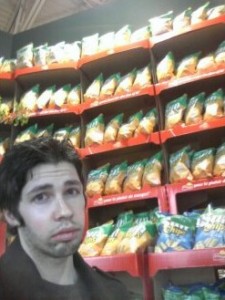 My favorite type of chips are Sun Chips. Most people think they're less than appealing, but I love them. I walked into the grocery store last night after work to pick up the essentials: milk, yogurt and bananas. Ya'know, the few items I would most likely perish without. You'll never guess what the big display in the entryway was showcasing. That's right: Sun Chips. 12 vertical feet of them, too. I received several weird looks as I continuously snapped pictures with my 80s-era cell phone in an attempt to get both my face and the chips in the same frame, but it was worth it just to show the sheer magnitude of the mountain of chips I'm not allowed to eat. Shucks.
I've been getting a little creeped out every single time I brush too. I always have to pull my lips up to brush the tops of my teeth, and when I do so, I can see all my stitches coming out. They look like little spider legs crawling out of my lips and gums, and it's quite unsettling. I'm not an avid supporter of spiders even when they're not around, let alone when it appears that they're crawling out of my mouth. I definitely won't mind when all these stitches go away.
I don't have much to report today regarding my jaw. My cheeks are still quite swollen and certain people have told me I look completely different as compared to 5 weeks ago. I guess that will all be determined when I post my before and after pictures on Day 90. I'll be sure to get a copy of my x-rays and put them online as well. They're pretty neat to look it because you can see all the titanium plates holding my face together, along with the little screws that are keeping those plates adhered to my actual bone.
On a completely unrelated note, I'd like to extend a thank you to my friend from down under who enlightened me with the amazing Graham Diet. Developed by Sylvester Graham, it restricts its participants from eating meat or spices, a formula which its creator thought would prevent people from having impure thoughts. While that sounds weird (primarily because it is weird), it eventually led to the creation of the famous Graham cracker. And we all know that s'mores just wouldn't be the same without those tasty cookies.