Pain: 0/10
Inconvenience: 3/10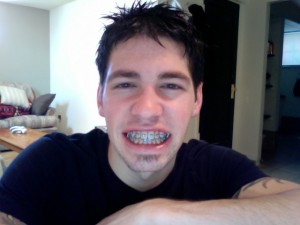 This is the current state of my teeth. They're big, they're prominent and they're no longer the victims of a class 3 malocclusion. I find it difficult to wrap my upper lip around them when I attempt to smile, and they still hit the brackets on my bottom teeth before my molars ever come into contact with each other. However, this is still Graham 2.0. So get used to it.
I've readjusted into my liquid diet routine and am no longer counting the days until I can eat solid food again. I've realized that when you get all excited for a specific triumph and then it fails to pass, you're quite let down. If I have no hope in sight, then I successfully eliminate the opportunity for failure. Wow, that sounded quite programmatic. Maybe I'm spending too much time in front of the computer these days.
I must admit, there are perks to the splint being gone. I can articulate words much easier and I'm able to drink from cups and bottles pretty naturally again. I had my first sip of alcohol in months a few nights ago as well. I was prepared for a pretty hard hit since I don't have much food in me these days, but luckily it didn't affect me much at all. I've also noticed that restaurants are surprisingly more affordable when you don't eat.
I appreciate all the comments on my Liberation Day post. They reminded me that I'm still in the early stages of recovery. My surgeon told me not to worry about anything until at least 6 months have passed since surgery. Since it's only been a mere 2 months for me, I shouldn't be fretting about my lack of feeling or the inability to eat quite yet. One of my high school teachers had jaw surgery a few decades ago and didn't attain full feeling in his chin for 2 full years!
And now for something completely different, I leave you with an assortment of sales pitches focusing on the turboencabulator. Apparently, this is what some people hear when speaking with engineers, or so I've been told.
(I hope ya'll caught my Monty Python reference.)