Pain: 0/10
Inconvenience: 2/10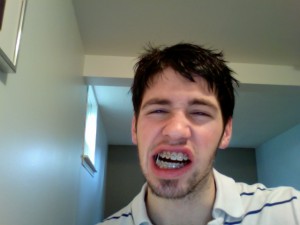 You have a working jaw. You're able to move it back and forth and from side to side. I do not have a working jaw. Today's mugshot demonstrates exactly how far to the side I can swing my lower jaw right now. I can open my mouth almost as wide as I was able to before the surgery though, so there's no doubt in my mind that my full, natural range of motion will one day decide to revisit this mouth of mine.
I still awake every morning with a fairly solid bite, but it still performs a disappearing act within 20 minutes of being vertical. Perhaps I should start taking a nap before eating so that I'm able to chew a bit better.
I had a visit with my faithful orthodontist yesterday. I wonder if she realized just how long my treatment would take when she first applied my braces. It's been 2 and a half years already, and I'm fairly certain there's a solid year left. I still have faith this will all be appreciated one day.
At my appointment yesterday, they removed the brackets from my 4 front-most bottom teeth to see if my bite would close when I wasn't hitting the metal adhered to them. It didn't. Then, they proceeded to step through the following agenda:
Glue the brackets back on, albeit slightly lower than before
Double my elastic routine, requiring me to create two boxes on each side of my mouth, enslaving a total of 8 teeth per jaw
"Figure 8" my two front teeth in an effort to close the gap that was forming (again)
Humans have 32 teeth in their natural set, but most lose 4 when their wisdom teeth are removed. So, to work through the math, I have 28 teeth, 16 of which are banded with elastics, meaning there only 6 teeth per jaw that are actually free. Of the survivors, the "figure 8" takes care of 2 more. I feel like there's a war going on inside of my mouth right now. My teeth also hurt too much to eat, but that's just the expected nerve pain from an orthodontic adjustment.
Right when I start to get used to my bite, they go and change it on me. Shucks.