Pain: 2/10
Inconvenience: 12/10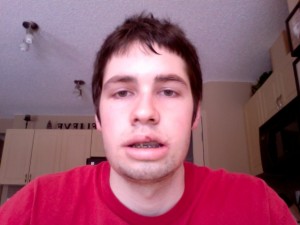 According to my surgeon, swelling peaks at 72 hours and stays at that point for anywhere up to a full week, at which point your face begins to return to normal. Tonight at 6:00 marks that 72-hour mark–thank God. My face is slightly fatter than it was yesterday, which makes it slightly tougher to eat, drink and breathe.
A few things I noticed this morning:
My breath smells a little smoky, like there's been something fermenting in my mouth for the past 3 days.
I'm still completely numb from the bottom of my eyes down to the bottom of my chin–no feeling in my lips, nose, or half of my cheeks.
My butt hurts much less today, and I'm regaining feeling in it. I can now sit down and feel fairly comfortable about it.
I weighed myself this morning and have already lost 10 pounds since Monday. That's 5.2% of my bodyweight, gone already.
On the bright side, I had a shower so I feel much cleaner now. I was also able to get a child-sized toothbrush in my mouth to brush the outsides of my teeth, so my breath is a little bit fresher. Not much, mind you. I can also move my mouth a bit, so I can now close and part my lips at will! Oh, the sheer control!
I've decided to start eating and drinking a little more today. For breakfast, I had an Ensure drink (335 cal) and 0.5 L of water, all by syringe of course. Then I took my meds, which included 2 shots of nasal spray per nostril (2x daily), a decongestant (2x daily), an anti-biotic (4x daily) and some medicated mouthwash (2x daily). Once this is all over, I think I'm going to slow my eating down and enjoy each bite a little bit more. I feel like lab rat having to take everything by syringe, like I'm some animal in a cage who can run up to take a drink from a tube whenever I'm thirsty.
The one thing I miss most about the hospital is the suction tube. Ya'know when you're at the dentist and they give you the tube that you can spit into to get rid of all the nasty that's in your mouth? I had one of those at the hospital, and it was wonderful. However, I don't have it here at home, so the only way I can clean my mouth out is to either:
Take a syringe of water and try to swallow everything down along with the water, or
Take a syringe of salt water, tilt my head back and forth to swish it around as best I can, then go hang my head over the sink and let everything run out.
Disgusting? Absolutely, positively, repulsive.
I spoke with my friend from the hospital today, the girl who only had 1 jaw operated on. She told me her swelling is already decreasing, so apparently double jaw surgery is much, much worse. I've spent most of today wheezing away trying to get enough air.
Anyways, I've decided that I'm not going to waste these days away. I'm going to spend a few hours every day reading, a few hours relaxing, an hour walking the dog to get some fresh air in these lungs, and a few hours on web development, just to continue learning. Why waste any time, right?
That's not to say I'm not going to hook my laptop up to the big screen and surround sound at some point and play Batman for a little while too…
Thanks to everyone who has offered to drop by with the following (some of these made me chuckle):
Liquor
Women
Movies
TV shows
Books
Baking (how am I supposed to eat this stuff?!)
Time to chat (but… I can't talk, remember? I communicate with my parents by using a computerized voice on my laptop, like Stephen Hawking.)
Jello shots (I'm almost there!)