Pain: 4/10
Inconvenience: 5/10
Say hello to my rubber chicken. His name is Jonathan and I found him while snowboarding 4 years ago. I could have traded him in for some lame prize pack that Burton was giving out as a reward for finding these little treasures, but I chose to keep the chicken. This has nothing at all to do with jaw surgery. I just thought it was time Jonathan had his moment in the spotlight. (This entire paragraph has been brought to you by the fact that I am bored on a Saturday afternoon.)
As far as my jaw goes, my pain shot up a lot today. I must have slept on the wrong part of my face, because my bottom teeth are absolutely killing me today. They were clearly grinding into my splint all night long. I've since grabbed my jaw and pushed it back into place, along with changing my elastics, so now they feel decent again. This is why my surgeon keeps reminding me to sleep on my back. Unfortunately, I'm more of a fetal position kind of sleeper.
I went for a walk with a friend last night and realized just how difficult it is to be entertaining. Talking still takes a lot of effort, depending on how tight my elastics are, and after a while, my jaw starts throbbing from all the movement. I'm also unable to:
Go for coffee (too hot, burns my delicate mouth)
Go for milkshakes (too cold, hurts the delicate mouth mentioned above)
Go for ice cream (my tongue is confined to the inside of my mouth, so I can't lick an ice cream cone; cannot use a spoon either)
Go for food of any kind (have I mentioned that I can't eat?)
Stay out for extended periods of time (I need to be eating every few hours or I'll end up becoming light-headed)
We also went to the pound because this friend of mine wants to adopt a puppy. That place is nicer than my own house! My new life plan is to become a dog and then proceed to lose my owners so I can end up in that luxurious animal resort we're calling "the pound" these days.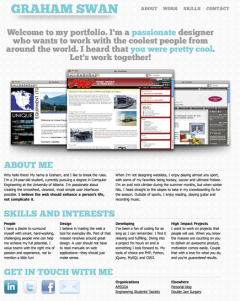 Today marked another 2 weeks since I last shaved, so I thought it was time to perform that laborious procedure on my face again. It only took me 15 minutes this time! That's a performance increase of 200%! At this rate, I should be able to finish all the shaving I need to do for the rest of my life within the next couple weeks, unless my efficiency curve hits a ceiling. But I don't believe that actually happens.
I'm looking forward to being able to just eat and just brush again. It takes a surprising amount of effort to take care of yourself when you can't eat or drink properly. It's going to be such a blessing to be able to brush my teeth without having to fret about ripping stitches out, cutting my gums, opening my mouth too wide, and drooling. It wouldn't be such a bad thing if I could use an adult-sized toothbrush again. Just sayin'.
I found some time over the past few nights and decided to make myself a website. It's just a single page type of portfolio, and it's extremely simple, but at least I exist online now. Feel free to check it out — www.grahamswan.com.