Pain: 1/10
Inconvenience: 5/10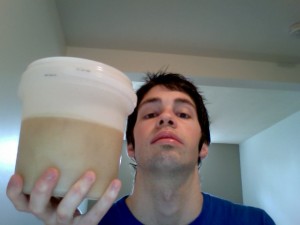 I grew up on a bee farm. Consult my resumes and cover letters–they all talk about it quite extensively (much to the frustration of certain people in my life who continually inform me that I need to be more professional). I can never call it that when I'm speaking to cattle or grain farmers because it offends them. They tell me that I have no right to call it a "farm" because it lacks both animals and crops. Either way, I grew up on a bee farm. In today's mugshot, I'm holding my precious 7 lb pail of pure, natural honey. When this splint comes out of my mouth in 4 weeks, I'm going to find the biggest spoon I can, load it up with the biggest helping of honey that I can physically fit on that spoon, and proceed to enjoy it more than I've ever enjoyed anything before. True story.
I have big news. I was finally able to get full! It happened after I downed a smoothie, drank a glass of juice, ate a full can of chunky soup, and topped it all off with a full liter of water and 1/2 liter of milk, all in a timeframe of 30 minutes. Unfortunately, I felt sick after because I consumed so much liquid in such a short span of time. I think I'd rather be hungry than sick.
I spent some time at a friend's place tonight, once again, playing Mario. While I failed at beating Bowser up, I did get to watch a housecat beat a dog up. It was one of the funniest things I've seen in a long time. The dog–I think it was a young bulldog–thought she would be all big'n'tough and started chasing the cat. Deciding it would have none of it, the cat ran towards the dog instead of away from it. This confused the dog in question, at which point she turned to run and hid under the coffee table. The cat hissed at her a few times (or whatever that sound that cats make is) and then strutted off with its tail held high. My hatred towards cats dampened a little bit after that. Not much, mind you. I'm still a firm believer in the fact that all cats are plotting to kill us.
I also had the privilege of playing drums for a few minutes yesterday. I used to have a drumkit when I was in high school, but I haven't played for almost 6 years. Needless to say, my beat was lacking. End of story.
The other night, someone told me they didn't like my name. She had her reasons though: she couldn't pronounce it properly. I've been called "Gram" since the dawn of time. When I attempt to explain to people that my name is "Gray-Yum", they just stare at me as if I'm making no sense at all. As a defence, I'd like to remind you of some of the wonderful things in this life that only exist because of my awesome name:
Graham Crackers
Graham Crumbs
Golden Grahams
Teddy Grahams
And, to finish off big, part of the Antarctic Peninsula is called Graham Land (I also have several creeks and streams named after me in New Zealand)
I'm beginning to wonder why I have to undergo life as an invalid for 2 solid months. All the other jaw surgery patients I've spoke to were only on a liquid diet for a couple of weeks. I would absolutely love to have a meal that is not comprised of soup with a side of soup and soup for dessert. Oh well, I will continue to trust my surgeon's guidance. I've already made it 27 days. What's another month or two, right?