Pain: 0/10
Inconvenience: 4/10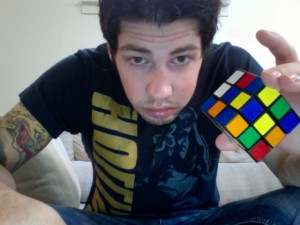 I finally bought a Rubik's Cube. It took me 24 years, but I found one (not that I've been actively searching for that long). It's coming to work with me tomorrow and I'm going to learn how to solve it. I know there are a few simple algorithms you can follow to solve these little boxes of joy in mere seconds, and I want to know them. So, dear Rubik's Cube, you shall have your 6 colors gracefully aligned within the next 24 hours. Get ready.
I have some exciting news! The other night when I was at Walmart, I weighed myself. I do odd little things like that in Walmart–weight myself, play ping pong, ride bikes around, watch TV, play Nintendo Wii, and so on. I figure if they have all these toys sitting there unchained, they deserve to be tried out.
…So I weighed myself. (Sorry, my A.D.D. sends me on constant tangents.) I have officially gained 5 pounds back! I was hoping the change would be a bit more drastic than that, but it's a start. I have no intention of trying to put weight back on until I have the go ahead to be crazy again. My goal is to gain at least 20 lbs back within my first month of activity. It sounds a little extreme, but I think it's possible.
My swelling still hasn't disappeared completely. It's going down a little bit each day, but if I talk a lot, which is becoming quite a common occurrence, my cheeks puff up like a chipmunk's. I can actually feel the ball of swelling in them, primarily in the right one. Swelling is noticeable due to a buildup of lymphatic fluid in the affected area. It's somewhat unsettling to think about a ball of pus floating around in my cheek. I'm definitely looking forward to the day when I'm able to talk without having to deal with the swollen consequences.
A friend who was over yesterday was watching me prepare my dinner. Preparation follows this rigid procedure:
Open 2 cans of Chunky soup and spread their contents among 4 Magic Bullet cups
Add ~10 pieces of spinach to each cup
Fill each cup to the brim with whole milk
Proceed to blend all 4 cups
Once blended, pour the pureed goodness into a pot and heat it like a normal person would cook soup
While the soup is heating up, wash all 4 cups so you can drink the soon-to-be warm soup out of them
Pour cooked soup back into the 4 cups and enjoy (along with a glass of prune juice and a blended Dairy Queen Blizzard)
He told me I should be a Magic Bullet sales person. Whenever I think of sales, however, my mind immediately drifts to the Shamwow and Slap Chop legend, Vince Schlomi. And let's be honest: nobody can compete with that man. Nobody.
To end on a happy (and manly) note, I'll leave you with another excellent commercial that has truly touched my heart: Campbell's Chunky Fully Loaded Man.